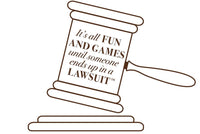 Legal Gifts for Everyone!
Ever wonder what to give the lawyer in your life? Search no more...our products put a fun twist on the practice of law. After all, it is all fun and games until someone ends up in a lawsuit™.
About the brand...
Thank you for visiting! We hope you find something you like for yourself, the lawyer in your life or your law firm. Please contact us if you are interested in purchasing more than 8 pieces of one item.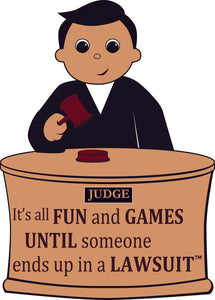 Contact and Legal
It's all FUN and GAMES until someone ends up in a LAWSUIT™ is a protected trademark. You may not use the mark without our express written permission. All rights are reserved. If you purchase an item through this Shopify store, then you hereby agree to the Shopify Policies. You understand that payment is made through Shopify and not with us. Therefore, we are not responsible for your personal and payment information. Questions? Please e-mail Stephanie@PottickLaw.com